Plagron Basic Nutrients
Do you grow organic or mineral? Give you plant the perfect basic nutrient. For each grow style, Plagron created basic nutrients which contain suffient nutrients for the growth and flowering phase.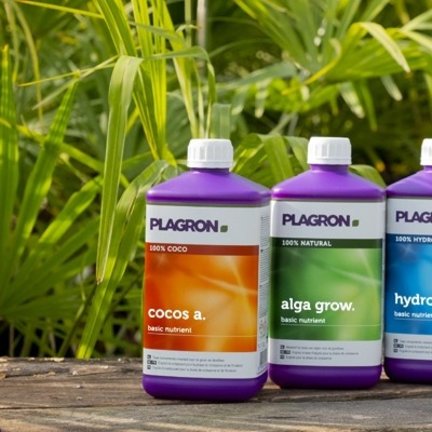 The basic nutrients from Plagron: Alga Grow, Alga Bloom, Terra Grow, Terra Bloom, Hydro A&B and Cocos A&B
Different grow styles are the foundation of Plagrons range of products. The good thing about this classification is that you start by choosing a grow style each with its own substrates and basic nutrient. 
100% TERRA basic fertilisers offer great flexibility so you can grow whatever you want. 100% TERRA can be recognised by the red label.
100% TERRA basic fertilisers already contain an automatic pH buffer based on average tap water. In many cases the pH value will already be good after the addition of the 100% TERRA fertiliser. But as tap water differs in content from one place to another you will have to check yourself whether the pH value of your nutrient solution is about 6.0. If that's not the case, you'll have to adjust it with pH Plus or pH Min.
100% COCO basic fertilisers are simple and easy to use and offer a stable pH value. 100% COCO can be recognised by the orange label.
100% HYDRO basic fertilisers offer total control for nutrition values and pH values. 100% HYDRO can be
recognised by the blue label.
100% NATURAL basic fertilisers are 100% organic and therefore good for people, animals and the environment. 100% NATURAL can be recognised by the green label.