Wilma growing systems in various shapes and sizes
Watering by hand is not necessary with the Wilma growing systems. With Wilma systems provide your plants with nutrient water automatically.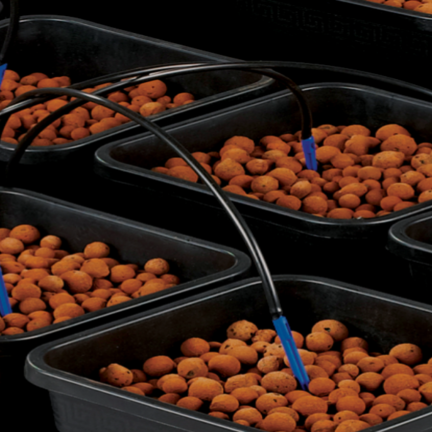 The Wilma systems ensure that your plants are supplied with nutrient water in a professional manner. This means that the plants will not lack anything and can perform optimally.
The breeding system is available in 10 different variants. The smallest variant consists of 8 pots with a capacity of 1.65 liters, which you can use well for growing cuttings or seedlings for example. The largest variant contains 20 pots with a capacity of 6.5 liters.
The WILMA growing system is a complete system for growing (up) plants, whereby the plants are automatically supplied with water. It consists of a collection tray with the pots of plants above it. These come in different sizes.
You fill the container with water, the water is then transported to a reservoir and automatically given to the plants with the help of a pump. This saves a lot of work, because you no longer have to water your plants every time, but you are assured that they will always get enough.
Watering by hand is no longer necessary with these growing systems.
There is a system available for every room.
They are light systems that are easy to move.
Install the Wilma system
assemble the pump
place the tray on the tray
place the water hose
connect the pump to the water hose
connect the small tubes to the water hose
press the blue pins at the end of the small tubes
place the pots on the system
close the tank with the red cap
After completing these steps, the system is ready for use and you can fill the pots. Then fill the tank with water and add plant food.
The best results from a pot!