Flow Hydroponics Irrigation System
The Flow hydroponics Grow System by G-Tools ensures optimal yields and rapid cultivation cycles because the plant continuously absorbs nutrients. In this growing method, the roots of the plants hang in a circulating stream of water with nutrients.
554,-

• Ebb and flow hydrophonic and drip irrigation system 107x52x36 cm • Includes 36 litre...

Compare

299,-

Complete automatic grow system with 3 available cultivation methods. Grow with ebb and flo...

Compare

6,20

Mesh pot for hydroponic cultivation. Suitable for G-Tools Hydroponics Grow Systems. Diamet...

Compare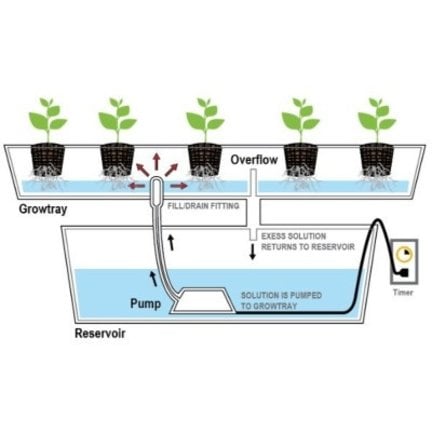 Hydroponic irrigation systems by G-Tools
Do you want to grow without a medium and are you looking for an automatic watering system that can help you make life easier?
With hydroponics you can very accurately feed your plants and thus fully control the growth and flowering phase of your plants. The continuous flow of 4 centimeters of water provides the plant with nutrition at all times, this way, the absorption is optimal. This cultivation method ensures that the length of the cultivation cycle decreases, therefore, a new cycle can be started quickly and the overall yield will be bigger.
The flow Hydroponics shallow water culture system has been developed for use in G-Tools grow cabinets, but can also be used as a separate module or in a grow box.
The different models of cultivation tables can fit 5 up to 30 plants