Pesticides and insects for protecting your crops and plants
At Raja Trading we sell various pesticides such as useful insects, which fight harmful insects and mites for a plant. We are happy to help you choose the right means for protecting your crop.
24,95

Nematodes to control the larvae of sciarid fly (Sciaridae), larvae of thrips and leaf mine...

Compare

15,-

Rogis OGF Garlic Anti Pest 500 ml Garlic extract

Compare

21,95

Adalia larvae of ladybirds against aphids. Ladybird larvae can eat up to 100 aphids per da...

Compare

94,95

Protecting crops against fungal diseases. Hampers also the spread of pests in the greenhou...

Compare

54,95

Mites in spreading box, 2000 pcs - 10 000 pcs - 25,000 st, or sachets, 100 pieces

Compare

36,95

Roof Bugs in spreading sleeve, curratief use

Compare

25,-

Rogis Garlic Anti Pest 1000 ml Garlic extract.

Compare

17,95

Increases the resistance and stimulates leaf growth of your plant. Antifungal. 50 ml bottl...

Compare

39,95

Spider mite biological control of mite. For prevention of spider mites by treating your pl...

Compare

245,-

Clean Light Hobby Unit (Home & Garden). For biological control of fungi, among others. The...

Compare

LOWEST PRICE GUARANTEE
10 YEARS OF ONLINE EXPERIENCE
VISIT OUR REAL SHOP

199,-

AquaKing electric sprayer nebulizer. This can be used for controlling pests and also for i...

Compare

35,-

Effective against eggs, larvae and adult stage spins! Available per 1 liter bottle.

Compare

220,-

RP Ecosprayer. Electric high pressure atomizer for spraying foliar fertilizer or pesticide...

Compare

13,95

Nematode sprayer from Biogroei for the quick and effective application of nematodes on you...

Compare

35,-

500 ml concentrate make 10 liters of spray liquid for a surface area of ​​20 m² +/-

Compare

24,95

Nematodes against black and red ants. For 250m² or 250 ant nests. For 50m² or 50 ant nes...

Compare

29,95

Simply hang in crop

Compare

29,95

Nematodes against vine weevil larvae

Compare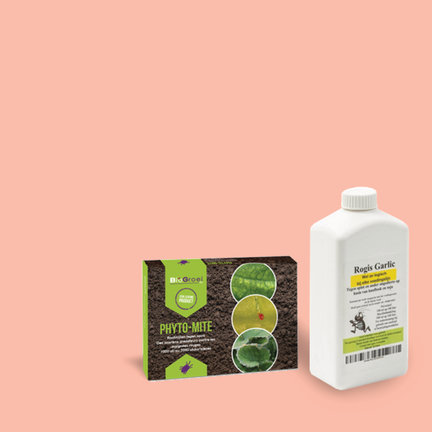 Pest control
Do you need pesticides or beneficial insects to protect your crop from pests?
Natural enemies are useful insects that fight insects and mites that are harmful to the plant. They are completely harmless to humans, animals or crops and cannot form a pest themselves. Natural enemies must be deployed at the start of attack. So the moment the first leaf damage or the first harmful insects are observed themselves. Yellow catch strips can help you with this. Provided that a few conditions are met, they are certainly as efficient as a chemical treatment.
Some natural enemies are only suitable for indoor applications, others can be released both indoors and outdoors. However, no harmful residues from chemical spraying or toxic natural products must be present during the release of natural enemies.