EC Control
Raja Trading sells different types of EC meters for soil and water from brands such as Bluelab, Adwa, Eutech, XS Instruments and Aqua Master Tools. We are happy to help you find the right and interesting EC meter or meters for you!
85,-

• Combo Pen P110 Pro • Digital pen meter from Aqua Master Tools • Measure EC, pH and...

Compare

109,-

• Suitable for measuring water with nutrients for plants and water in swimming pools, ja...

Compare

229,-

• Digital P700 Pro 2 combo meter from Aqua Master Tools • Measure EC, pH, CF, PPM and ...

Compare

397,-

Technically identical to the XS pH 5, but with replaceable electrode GROUND (Swiss jellyfi...

Compare

285,-

The Bluelab Pulse meter measures conductivity (EC), moisture and temperature at the roots ...

Compare

112,50

Bluelab Truncheon EC Meter. The World's Favorite Nutrient Meter! The quickest and easiest ...

Compare

289,-

The Bluelab Combi Meter is a handheld pH-meter, EC-gauge and temperature gauge in one. The...

Compare

-13% Sale

45,- 39,-

• Waterproof EC meter for measuring liquids • The accuracy is 2 decimals • Calibrate...

Compare

349,-

The Bluelab Guardian combo meter monitor continuously measures pH, conductivity and temper...

Compare

59,95

• Digital E50 Pro • Measure the EC and temperature values ​​• Switch between Cel...

Compare

LOWEST PRICE GUARANTEE
10 YEARS OF ONLINE EXPERIENCE
VISIT OUR REAL SHOP

111,20

The new Eutech Expert CTS (EC, TDS and salt) meter is waterproof. The successor / upgrade ...

Compare

10,90

• Bottle size: 250 ml • Calibration solutions for Bluelab EC meters • Extends the li...

Compare

95,-

Handy Conductivity Bluelab EC Pen. The Bluelab EC Pen is the latest innovation handheld EC...

Compare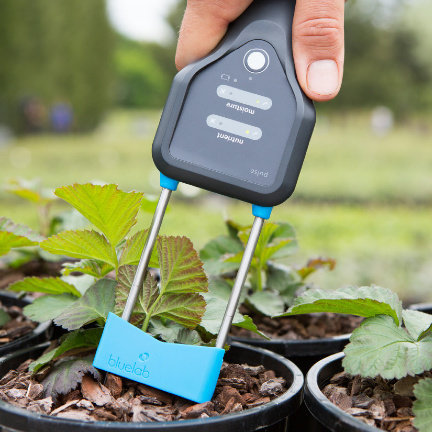 EC meters, also known as conductivity meters, are used to measure the electrical conductivity of a liquid. With a measuring instrument for the EC value you know exactly when the plant needs fertilizer or when it gets too much.
EC values are preferably measured in the feed water. There are also EC meters for measuring conductivity in the substrate. There are also so-called multimeters available that measure the pH and temperature in addition to the EC value. 
Why are EC measuring instruments so important?
EC stands for Electrical Conductivity. The EC value indicates the salt content of a liquid, substrate or soil. In order for your plants to thrive, it is important to keep an eye on the EC value in soil and irrigation water!
The EC value helps to determine the nutrient content in the soil. Seeds and cuttings are more sensitive to salinity than older plants. 
Choosing the right meter depends on factors such as desired accuracy and budget. Take a look at our selection and get an overview! 
Any questions? We will be happy to help you find the right EC meter for you and your plans!