Grow Supplies
At Raja Trading we offer different kinds of growing equipment. We are happy to help you buy growing stuff and materials that meet your wishes and requirements.
-32% Sale

36,95 25,-

• Greenhouse for germinating seeds and growing cuttings • Dimensions: 59x39x24 cm • ...

Compare

8,20

Jiffy-7 41 mm 100 pieces. These tablets swell when they come into contact with water. Also...

Compare

15,90

Rogis OGF Garlic Anti Pest 500 ml Garlic extract

Compare

37,70

Roof Bugs in spreading sleeve, curratief use

Compare

11,20

Secret Jardin webit 120x120 cm. Elastic Web Plant Support 120x120 cm. A flexible climbing ...

Compare

1.479,-

• ACD Prestige 224x159x221 cm • Greenhouse Piccolo P03 with aluminum frame for urban g...

Compare

14,30

The Scrogline-Pro is a handy scrognet you can use per plant. Available in 50x50 or 60x60 c...

Compare

15,20

Rhizopon Cutting Powder Chryzotop 0.25% per 80 grams • Treatment of the cuttings with po...

Compare

5,30

The bamboo canes are ideal for supporting plants. The 90 cm bamboo canes are delivered per...

Compare

599,-

G-Tools Bonanza grow cabinet empty.

Compare

LOWEST PRICE GUARANTEE
10 YEARS OF ONLINE EXPERIENCE
VISIT OUR REAL SHOP

10,10

Jardin Secret Light DF-16 Baffle including anti-insect netting. Blocks light indeed, but n...

Compare

13,30

Medium indoor thermometer and hygrometer by Garden HighPro. Including sensor 1.5m.

Compare

121,40

The Grodan cutting blocks are ideal for the cultivation and roots of your plants. Availabl...

Compare

25,50

Jardin Secret Fan Monkey Fan R2.00 16 watts. Luchtcirciulatie for good and sufficient fres...

Compare

250,-

Clean Light Hobby Unit (Home & Garden). For biological control of fungi, among others. The...

Compare

6,10

Secret Jardin webit 90x90 cm. Elastic Web Plant Support 90x90 cm. A flexible climbing net ...

Compare

56,10

Mites in spreading box, 2000 pcs - 10 000 pcs - 25,000 st, or sachets, 100 pieces

Compare

25,50

Nematodes to control the larvae of sciarid fly (Sciaridae), larvae of thrips and leaf mine...

Compare

76,40

Digital P100 pro pen meter by Aqua Master Tools. Measure EC, pH and temperature values. Ca...

Compare

23,50

Moistened hand wipes for professionals: Miracle Wipes XL. Impregnated, with special protec...

Compare

-11% Sale

229,- 203,-

Digital P700 pro 2 combo meter by Aqua Master Tools. Measure EC, pH, CF, PPM and temperatu...

Compare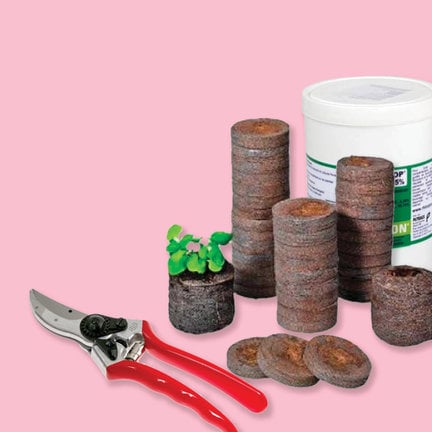 Grow Supplies
Growing your own vegetables, fruit and herbs is very tasty and easy to do yourself. It is also extra fun to put vegetables from your own culture on the table, for example. Do you not want to maintain an entire garden but still want to get started easily? Consider a few beautiful growing pots, cuttings material, plant nutrients or other grow items.
We are happy to help you put together the best grow material for your own specific situation. Look here for all your growing equipment or grow systems.