Spring gifts grow gifts flower bulbs and seeds
At Raja Trading we sell various seeds and flower bulbs from the Florex range.
15,30

Two decorative organic sprout jars with a drip tray and seeds.

Compare

24,50

Buzzy Bird Old Dutch bird feeder. Easy to assemble. Dimensions: 28x33x105 cm.

Compare

3,10

Flower Gift Bees and Butterflies Flower Mix

Compare

19,40

Buzzy Home decorative round insect hotel for various insects. Made from biological materia...

Compare

6,10

Decorative organic glass sprouting jar for sproutings seeds with Daikon seeds.

Compare

13,30

Birdhouse

Compare

10,10

Flower XL package with 80 grams seed mix of 15 types of seeds and 1.8 kg Humu Forte soil i...

Compare

12,20

Buzzy Bird Gift decorative round white earthenware bowl. Can be used as a bird bath, drink...

Compare

4,10

Decorative terracotta flower pot from Buzzy Grow Gifts with Kale seeds. Perfect as mini ga...

Compare

9,20

Bag of 35 flower bulbs. Contains dalias, lily, crocosmia, anemones and liatris. Perfect to...

Compare

LOWEST PRICE GUARANTEE
10 YEARS OF ONLINE EXPERIENCE
VISIT OUR REAL SHOP

10,20

Buzzy Bird Home stylish nest box for the robin, white wagtail and wren. Dimensions: 12.5x1...

Compare

7,10

Buzzy Bird Gift bird feeder made of black steel for 250 grams of peanuts. Easy to clean an...

Compare

13,30

Buzzy Bird Gift peanut cage feeder specially made for small birds. Large birds will not re...

Compare

7,10

Buzzy Bird Gift bird feeder made of black steel for 250 grams of seeds. Easy to clean and ...

Compare

7,10

Easy fill bird food feeder for birds. Made of durable plastic and metal. Includes seed mix...

Compare

9,20

Bag with 60 flower bulbs, suitable for the picking garden. Contains gladiolus, iris, ranun...

Compare

13,30

Nordic birdhouse for e.g. great tits and sparrows.

Compare

7,10

birdhouse

Compare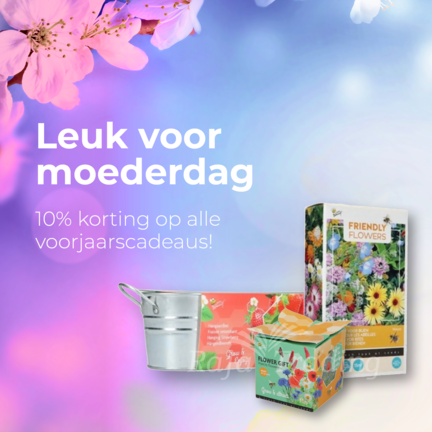 Order Grow gifts for the spring of Florex online?
We are happy to help you find flower bulbs and seeds that meet your requirements.
This is how you plant bulbs
Make a hole about twice as deep as the sphere is high.
Place the bulb, or several bulbs in it.
Close the hole again with soil.
Water the bulbs after planting so that they are going to grow.
ENJOY!
When to plant?
Spring flowering bulbs such as tulips, daffodils and hyacinths are planted in the fall,
from September to December, before the first night frost.
Where to plant?
Bulbs can be planted in different ways: scattered in a border, in groups together, between the lawn or on the terrace or balcony in a pot or planter.