55,-

High quality Winflex 185m3 axial fan with Prima Klima K2600 mini eco carbon filter combo d...

Compare

145,-

High quality GT 125 2 Speed axial fan with Prima Klima K2601 flat eco carbon filter combo ...

Compare

935,-

Fully equipped Bonanza grow cabinet of 0.35m2 with 250 Watt HPS grow light.

Compare

2.399,-

G-Tools Bonanza breeding cabinet (1m2) with Shuttle 6 - 2x 240W LED. The two Prima Klima S...

Compare

737,-

• Bonanza Klima 0.35m2 Bench Model • Grow Cabinet with fan, Carbon Filter, Muffler, T...

Compare

309,-

XL Extension kit for the G-Kit Bonanza 1m2. The Grow cabinet will increase by 56 cm to 232...

Compare

299,-

Complete automatic grow system with 3 available cultivation methods. Grow with ebb and flo...

Compare

424,-

Automatic watering system by G-Tools. Can be used as ebb & flow or drip irrigation system....

Compare

369,-

High quality Prima Klima 125 EC-TC axial fan with Prima Klima K1604 industry carbon filter...

Compare

1.319,-

• G-Tools Mini Grow Cabinet with G-Bars 170 Watt LED Grow Lamp • 0.35m2 • Ideal for ...

Compare

1.258,-

Bonanza Klima 1m2 Grow Cabinet with Winflex fan, Carbon Filter, Muffler, and Timer.

Compare

2.084,-

• G-Tools Bonanza Growbox (1m2) • 2x G-bars 170W Led • Energy efficient and multifun...

Compare

LOWEST PRICE GUARANTEE
10 YEARS OF ONLINE EXPERIENCE
VISIT OUR REAL SHOP

894,-

Bonanza Klima 0.35m2 Grow Cabinet with Winflex fan, Carbon Filter, Muffler, Timer and Lock...

Compare

1.495,-

• G-Tools Kitchenfarm Small • Compact grow box for microgreens and leafygreens • Gro...

Compare

1.095,-

• G-Tools Kitchenfarm Small • Compact grow box for microgreens and leafygreens • Gro...

Compare

1.364,-

Grow cabinet, fully equipped 1m2 cabinet with space for 15 x 6.5 liter pots, 12 x 11 x 4 l...

Compare

92,40

• G-Bar LED Grow Light 52x5x3 cm • 40 Watts • 2,5 µmol/J • Including power cord ...

Compare

69,-

• 100% Noiseless • Dims up to 10% • Plug & Play • Power: max 5A • Incl. thermost...

Compare

59,-

• Silencer Suitable for all GT 125 tube fans • Reduces noise by up to 45 dB. • Lengt

Compare

89,-

• Low-noise duct fan • MES balanced motor • Capacity: 420 m3/hour • Power: 60 Watt

Compare

178,50

• G-Bar LED Grow Light 100x5x3 cm • 80 Watts • 2,5 µmol/J • Including power cord...

Compare

99,-

• Low-noise duct fan • 2 Speed • EBM Pabst balanced motor • Capacity: 220 or 400 m...

Compare

1.888,-

• Complete grow box with LED lighting • Bonanza 1 m2 climate model • 2x190W Sanlight...

Compare

125,-

• Mini fan, filter with silencer. • The Winflex mini extractor in this combination set...

Compare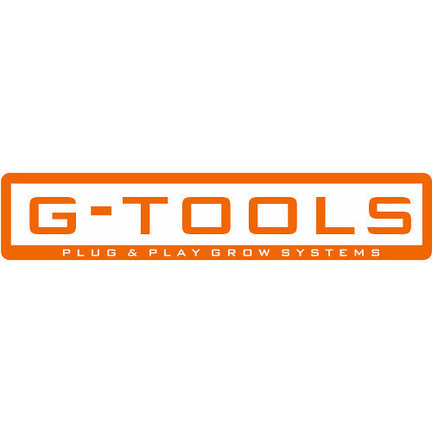 Top Quality G-Tools grow cabinets
---
At Raja Trading we sell robust design grow cabinets from G Tools in various shapes and sizes.
You can easily place these cupboards in your living room. The cabinets look like a normal piece of furniture.
The grow units from G Tools are available as a complete kit: including LED or hps lighting and extraction and ventilation. The cupboards can also be purchased empty. In this way you can put together your own configuration of lighting and extraction as desired. There are also expansion parts for sale separately if you want to go further up.
We believe everyone should be able to grow their own plants and vegetables at home. Therefore, in 2004, G-tools started to design its first plug and play growbox. Since then, G-tools sold thousends Bonanza and Wing growboxes and became Europe's market leader in "plug and play grow systems". Have a look at our wide range of ready-to-go grow boxes and start your own homegrow.
We are happy to help you find the right grow cabinet that meets your wishes and requirements!
Discover the new growing!