19,90

Adalia larvae of ladybirds against aphids. Ladybird larvae can eat up to 100 aphids per da...

Compare

19,90

Nematodes against black and red ants. For 250m² or 250 ant nests. For 50m² or 50 ant nes...

Compare

39,90

Larvae of lacewing

Compare

14,30

Nematode sprayer from Biogroei for the quick and effective application of nematodes on you...

Compare

40,80

Spider mite biological control of mite. For prevention of spider mites by treating your pl...

Compare

25,50

Nematodes to control the larvae of sciarid fly (Sciaridae), larvae of thrips and leaf mine...

Compare

18,90

• Available for 20 m² and 200 m² • Suitable for foliar treatment against thrips • ...

Compare

37,70

Biogroei Orius predatory bugs are a natural pest control against thrips, but also aphids, ...

Compare

56,10

• Biological control and prevention of spider mites • Available in sprinkle tubes of 2...

Compare

LOWEST PRICE GUARANTEE
10 YEARS OF ONLINE EXPERIENCE
VISIT OUR REAL SHOP

29,90

Nematodes against vine weevil larvae

Compare

30,60

Simply hang in crop

Compare

29,90

Spider mite biological control with Phyto-mite mite. Well together to turn the Soni-Mite S...

Compare

24,30

Mc Phailval is a pheromone specific to scavenge fly like the cherry fly. The pheromone can...

Compare

12,50

Compare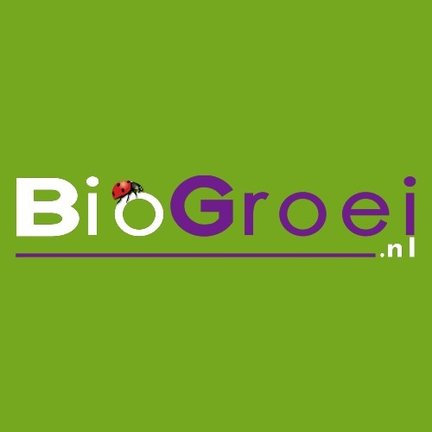 Organic pest control & crop protection from Biogroei
Biogroei is a pioneer in natural pest control and crop protection for individuals and professionals! Biogroei includes living organisms* that are freshly produced on the day of shipment. The range includes various nematodes, beneficial insects, various insect traps, pheromone capsules, sticky traps and other mechanical aids.
Serving Nature
Biogroei has over 25 years of experience
Provides and produces natural products that are biologically / ecologically responsible
Has a wide range for private gardeners, garden contractors, municipalities, sports clubs and gardeners.
Delivery times of living organisms
Live material such as nematodes and beneficial insects from Biogroei are sent on Monday and Wednesday. Orders placed before Friday 5 PM will be shipped Monday. And orders for Tuesday evening 5:00 pm will be shipped on Wednesday.
Please take the above production and processing times into account when placing your order. Always order well in advance, to avoid disappointment! You can usually receive your package on Tuesday or Thursday. You will always receive a track & trace from PostNL when your order is shipped. If necessary, the package is sent (free of charge) refrigerated, depending on the outside temperature and the type of product.
Not returnable
Due to the limited lifespan of these items, you can never return and return them.
Delivery times non-living material
Non-living material such as traps and pheromones are sent daily. You will always receive a track & trace from PostNL or DPD for tracking your order.
* Note: If the plants have already been chemically treated, it is important to know if any harmful residue is still present before you release beneficial insects. These products are by their nature excluded from the right of withdrawal.