99,-

AutoPot Easy2Grow four pots automatic watering system for the garden and greenhouse. Start...

Compare

5,90

The Autopot Airdome kit boosts oxygen levels at the roots in your AutoPot Easy2Grow, 1Pot,...

Compare

139,-

AutoPot 1Pot four pots Starter Set incl. 47L water tank. An automatic and very complete wa...

Compare

134,90

AutoPot Easy2Grow six pots automatic watering system for the garden and greenhouse. Starte...

Compare

56,50

AutoPot Easy2Grow two pots automatic watering system for the garden and greenhouse. Starte...

Compare

285,-

AutoPot Easy2Grow 16 pot automatic watering system for garden and greenhouse. Complete 16m...

Compare

879,-

AutoPot Easy2Grow 48 pots automatic watering system for the garden and greenhouse. Complet...

Compare

399,-

AutoPot 1Pot 12 pots system is an automatic and very complete irrigation system with 16mm ...

Compare

88,90

AutoPot 1Pot two pots Starter Set incl. 47L water tank. An automatic and very complete wat...

Compare

189,-

1Pot Autopot automatic watering system. Contains 47L water barrel with lid, 4x 18.9L Smart...

Compare

39,90

AutoPot 1Pot XL (9mm + 16mm) expansion irrigation set. This watering system uses a 25-lite...

Compare

190,90

• AutoPot Auto8 Tray System • With 8 pots of 15 litres • Dimensions: 119.5 cm x 53 c...

Compare

LOWEST PRICE GUARANTEE
10 YEARS OF ONLINE EXPERIENCE
VISIT OUR REAL SHOP

36,90

Easy2grow's two pot module 15 litre extension. Ideal for phased expansion. The 15L pots a...

Compare

969,-

1Pot Autopot automatic watering system. Contains 24x 18.9L Smartpot, 24x tray with Aquaval...

Compare

29,60

AutoPot 1Pot Expansion Set incl. 6mm and 16mm socket. Suitable to expand an existing syste...

Compare

179,-

• AutoPot Auto8 Tray System • With 8 pots of 8.5 litres • Dimensions: 119.5 cm x 53 ...

Compare

1,50

T-piece for coupling water pipes in irrigation systems. 6mm connection.

Compare

2,50

PE supply hose for irrigation systems. 6 mm connection. Price per meter.

Compare

3,80

Cross Connector with 16mm diameter for the installation of flexible water pipes. Connectab...

Compare

185,-

AutoPot 1Pot XL 4 pots automatic watering system for the garden and greenhouse. Starter co...

Compare

59,95

FlexiTank 100L water tank ø diameter 43 cm, 75 cm high • Everything a gardener needs in...

Compare

37,50

Single module for the 1Pot Automatic watering system by AutoPot. Can be used as an extensi...

Compare

56,90

AutoPot 1Pot one pot Starter Set incl. 47L water tank. An automatic and very complete wate...

Compare

785,-

AutoPot 1Pot 24, potting system is an automatic and very complete irrigation system with 1...

Compare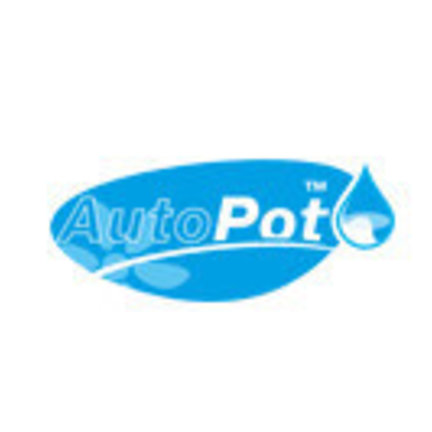 Autopot Hydroculture systems
AutoPot provides easy-to-use automatic watering systems. These can be used for hydroponics or for traditional soil irrigation systems.
AutoPot automatic watering systems are suitable for growing vegetables, fruit, herbs, but also ornamental plants.
Growing fruit and vegetables in the garden, greenhouse, conservatory and vegetable garden.
A versatile and easy to use growing system.
Suitable for young and old.
AutoPot makes growing as simple as it can be... less effort bigger yields